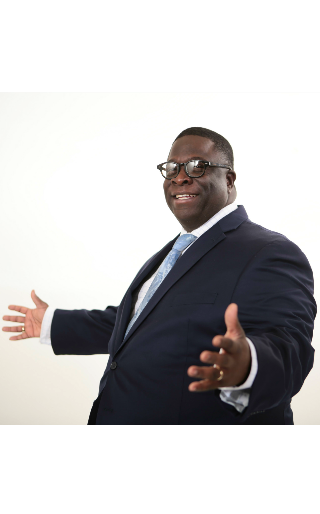 Pastor Oscar L. Broadie, Jr.
Pastor Oscar L. Broadie Jr., was born and raised in Washington, DC, to the parents of the late Oscar L. Broadie, Sr. and Constance Justine Fleming. He is the youngest of twelve siblings.  He is married to the former Harriett Burney. Reverend Broadie has two children, Alisha and Oscar L. Broadie, III. He was educated in the District of Columbia Public Schools.
Before he was formed in his mother's womb, he was called to the ministry and ordained. He did not recognize the calling until he was 27 years of age and did not answer until he was 30. Licensed in 2003 and ordained in 2004, he enjoys teaching, preaching and proclaiming the Good News of our Lord and Savior Jesus Christ! He served in the capacity of Youth Pastor and the Assistant to the Pastor of the Carmody Hills Baptist Church. In the absence of a Pastor, he served as the spiritual leader. Reverend Broadie was elected Pastor of Carmody Hills Baptist Church on January 2011.
Reverend Broadie attended Capital Bible Seminary in Lanham, Maryland, and Trinity College of Washington, D.C. He completed Howard University School of Divinity Saturday College of Washington, D.C. Reverend Broadie holds a B.S. Degree in Business Administration, concentration Small Business Administration, of Cheyney University of Pennsylvania. He has conducted Leadership Workshops and Seminars, and developed Spiritual Curriculum.
Reverend Broadie has been employed with the District of Columbia Public School System for 10 years as an Administrator on the Secondary Level. He taught Business Education and Computer Technology for a numerous years in the private sector and in the Public Schools System.
His passions are to preach, teach, serve, lead, organize, empower, build and establish healthy community relations between church and community.
His favorite scripture is Romans 8:39 Nor height, nor depths, nor any other creature, shall be able to separate us from the love of God which is in Christ Jesus our Lord.
Contact Info:
email:
oscarbroadie@aol.com
phone:
301-350-6235